You'll thank us for these 10 Thanksgiving ideas.
If you don't have a neighborhood Publix just yet, we look forward to being a part of your holiday next year (and maybe even doing some of the cooking for you). But for now, here are some easy, creative ways to make your festivities memorably entertaining and delicious. Happy Thanksgiving.
1. Switch up the star of the meal
Try a new take on your turkey this year—or go with a totally different main dish. With these delicious options, there will be nothing but love around the table. And maybe some applause.
2. Get crafty with the family
Fun, meet festive: Relax with your loved ones and create some easy, attractive seasonal decorations.
3. Get saucy with sauces 
These special sauces are so easy, you'll want to make plenty to go with your leftovers. And they're perfect for little helpers to try out their sous chef skills on.
Cranberry, Raspberry, Pear Sauce
4. Find some fall fun
Take a field trip to a local farm to enjoy a pumpkin patch, corn maze, or hay bale ride. While you're there, pick up pumpkins for this simple decorative craft.
 5. Spread the cheer
Spending time together is what the holidays are all about. And using that time to give to others—well, even better. Here are some great recipes to make together and deliver to someone special.
Honey Thyme Roasted Butternut Squash
6. Do dessert a little differently
Pumpkin pie is a beloved go-to, but how about Pumpkin Flan? And instead of saving the cranberries for a condiment, why not feature their tart taste front and center in a Cranberry Custard Pie? Whichever recipe you choose, we promise you won't have leftovers.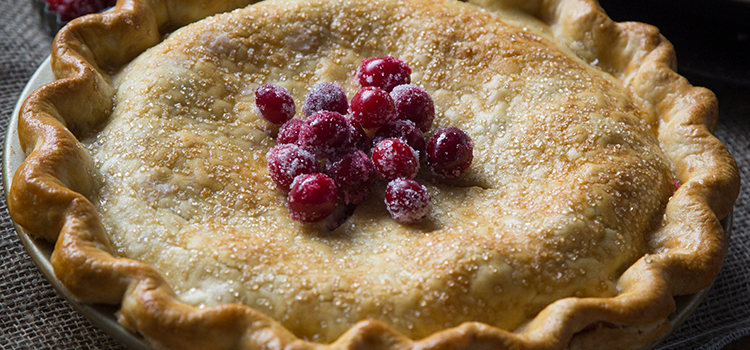 7. Make a superstar side dish
Everyone loves dinner rolls and mac and cheese at Thanksgiving. Try these delicious updates: they'll take the love to a whole new level.
8. Serve something very veggie-licious
The turkey and the pumpkin pie get all the fanfare. But these vegetable dishes can take your Thanksgiving over the top.
Brussels Sprouts with Pancetta, Shallots, and Cherries
9. Set the table for fun
The little ones will have a blast with this craft. Candy and nuts fill festive cornucopias for an enchanting table setting.
10. Take a moment to take it in
In a season packed with "more," the tiniest moments are often the ones that matter most. Take the time to look around and savor the flavors of the season, the fun with family, and priceless time spent together.
Find more recipes and ideas for your family's Thanksgiving here.
---